Road Atanta's
911 CUP Klassische Meisterschaft
The 2019 Porsche Club of America 911 CUP Klassische Meisterschaft (Classic Championship) series kicked off at Road Atlanta with some epic racing. In Sprint Race One, the battle resulted in Niels Meissner fending off Mark White and John Machul for victory. The competitors knew the elements would come into play at some point in the weekend and were eager to get back on track for race two.
During the Sprint Race Two, Dan Martinson of GearTie Racing rebounded from a post-race one penalty to claim victory and set a track record for the class. Accumoto Motorsport's Mark White and Niels Meissner rounded out the final two spots on the podium to finish Saturday's racing.  The top finishers of Sprint Race 2 posted fast laps within 1.3 secs of each other.
Mother Nature came to play on Sunday and was a force to be reckoned with on the track. With sheets of rain pouring from the sky, and rivers of water running down the track, those who took the Enduro green flag were in for a battle. Due to safety concerns, Stewards shortened the race as conditions on track became perilous as the afternoon wore on. Niels Meissner took the class win and the overall victory in the Enduro.  Mark White extended his weekend podium streak by taking second place, while Dan Martinson finished third. Drivers later described the track conditions as being "complete insanity."
Siggi Meissner took home the "Vic Elford Award" for tenacity and the ability for his demonstrated skill all weekend, regardless of the conditions.
Pictured left to right, are the points leaders from Road Atlanta:
Mark White, 2nd Place
Siggi Meissner
Niels Meissner, 1st Place
Dan Martinson, 3rd Place
The 2019 911 Cup Klassiche Meisterschaft moves on to the always fast and challenging Mid Ohio Sports Car Course next. See below for the remaining schedule information, as well as tire set-up recommendations for anyone contemplating entering the series.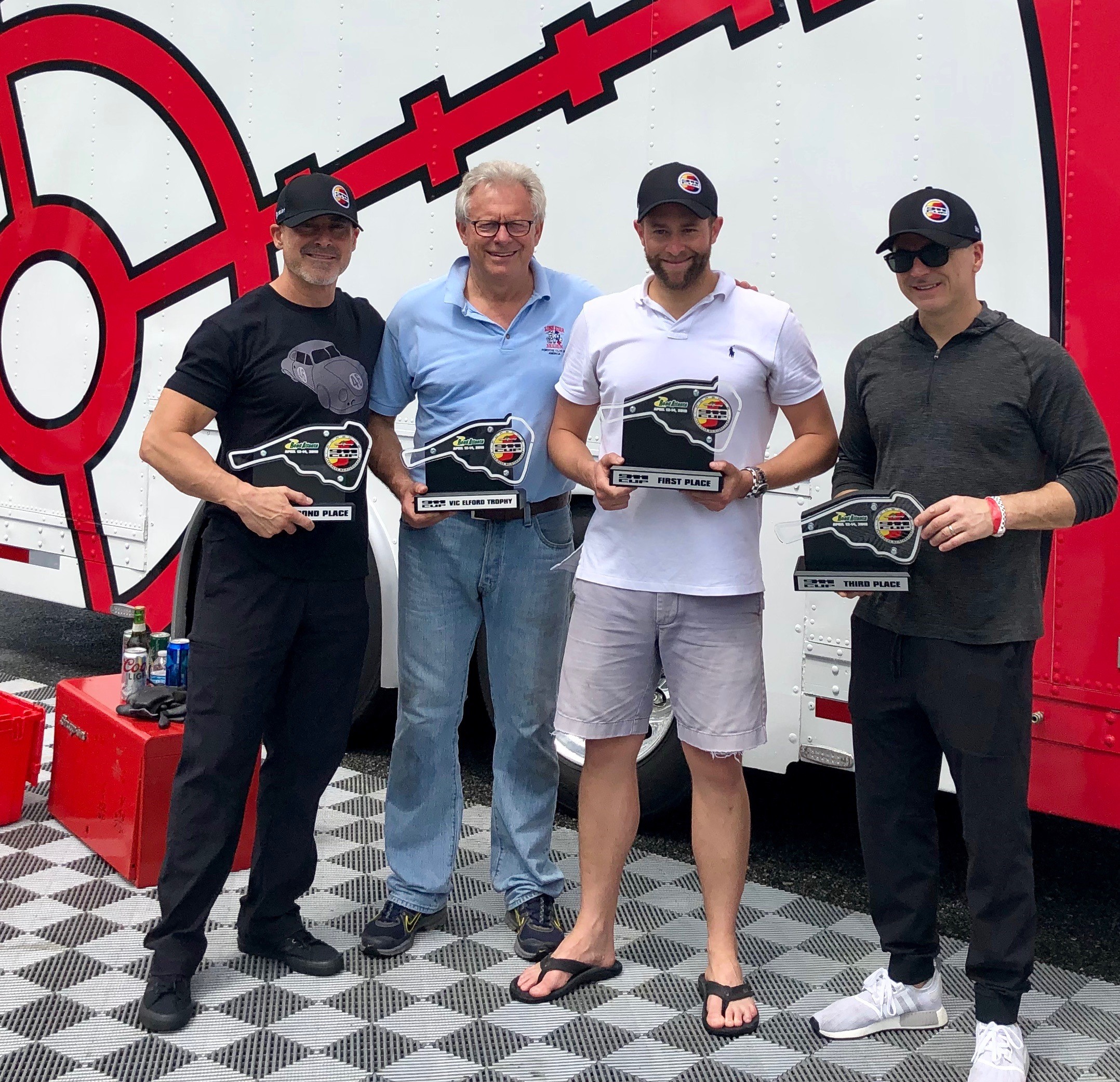 If any Stock D and F class racers are interested in testing the Hoosier TD tires for an event, please contact coordinator Jeff Wiggins at jeff.wiggins@pcaclubracing.org. Any testing data PCA Club Racing can receive this year will go a long way to help sort out rules and classifications for 2020. The goal is to expand the 911 Cup Series to include Stock D, E, and F cars in the future, but solid data is needed to make good decisions on rules and parameters.